On April 8 in Startup SAFARI Virtual Experience was held a round table. The topic was: Breaking the codes of entrepreneurship in culture. The different speakers exchanged on the prejudices that slow down creative people to undertake and to value their work. There was Astrid Meslier from La Ruche who gave the floor to Tristan Desplechin Co-founder of Ciné Chita and Olivier Pascal the Co-founder of LAFAAAC. In this article we give you the key points shared during their session and invite you to watch the video. The link is at the bottom of the article
Doing business in culture is not ethical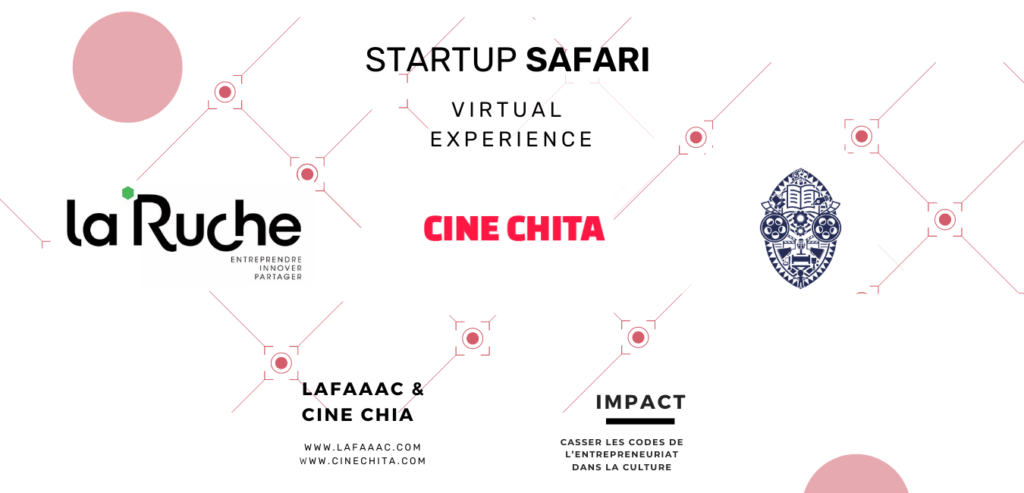 One of the taboos of the cultural sector is the monetization of artistic works. It is frowned upon to create a company in the cultural field because it is not natural to associate economy and culture. Art cannot be monetized.
Tristan believes that as a company we must ensure that our employees are paid a salary and have good working conditions. By doing this, the company operates in an ethical manner. Moreover, at Ciné Chita, it was very important to them to allow as many people as possible to have access to their tickets. They can then reduce the price thanks to the various state aids. It is important to have a balance between the artistic side and the viable side that meets the needs of the people.
Olivier clearly denounces this taboo. According to him, it is a French idea not to associate money with culture or art. Thanks to his international background he sees that it is not always the case in other countries. Moreover, the CNC (national center of cinema) mentions that what is important is that the creators know how to monetize their creation. This is a real problem because there are a lot of creative people in France or in other countries, but they can't live from their art because of this wrong assumption. For LAFAAAC, Olivier really wanted to create a profit-making company in order not to be dependent on subsidies and to ensure a perenniality by itself.
The culture is a private sector !
Astrid noticed a second cliché which is the difficulty of integrating this cultural world only if you know a person or if you have been to the right school. Tristan and Olivier agreed that this prejudice is both true and false.
This cliché is true, because the cultural world is governed by different institutions in each discipline. These institutions have their own way of functioning as well as their own network. Given their seniority and their contribution to the influence of France, they are unavoidable. It is necessary to get closer to them and their network and it is often at this level that difficulties arise. The meeting is not easy. But fortunately, today we have organizations such as La Ruche that make the link between them and the creators. The success passes by the accompaniment of these organizations.
But this prejudice is also false because both Tristan and Olivier did not initially study in artistic fields. Olivier was a consultant for 15 years in an Anglo-Saxon firm and advised banks and governments to invest in the audiovisual sector in developing countries and in Africa. While Tristan was a chemical engineer with a little entrepreneurial experience. And yet here they are, entrepreneurs in the cultural field. Moreover, in his activity, Tristan rubs shoulders with non-academic profiles who work in this field and who are multidisciplinary. He meets people who have no network but who are driven by their passion. For them, success depends on understanding these institutions and their sprawling organization. The support of organizations such as La Ruche are crucial but also the integration of a network. But not a network of cooptation but a network that helps to mark out and understand the sector.
The key is to educate yourself to have the information by yourself instead of going through someone high up. This is how Olivier was able to discover the IFCIC which is the institute for the financing of cinema and cultural industries.
The place of women in the cultural sector
This topic was also discussed during the session because it was noted that the cultural industries leave little room for women and relegate them to minor positions.
Olivier confirms this and finds that women occupy few key positions. This is why LAFAAAC has decided to put them forward through their training videos presented by women trainers. In this perspective, he salutes Laurence Lascary's effort to achieve parity in the film industry.
Ciné Chita also noticed the same phenomenon with the cinema. Wanting to revive historical films, Tristan realized that the majority of the key roles were given to men. So to remedy this, they added roles for women to these films.
But this should not be a brake for women. They must take their place and show that we really need their vision and their contribution.
Conclusion
The final word is that there are indeed obstacles to entrepreneurship in culture. These are taboos and prejudices that need to be reviewed. But let's not stop there. There are still great opportunities to overcome these obstacles. You just need to be accompanied !