To the delight of several entrepreneurs, Michal Šrajer, one of the co-founders of Confer-O-Matic, shared how they dealt with the first containment. Their company was born during this period and is unexpectedly successful that is crossing the borders of the Czech Republic. So we decided to call on them for the 2021 edition of Startup SAFARI which was held in one of their virtual worlds.
This article is a summary of his appearance in startup Safari Virtual Experience. However you have the link to the video available at the bottom of the article.
The history of Confer-O-Matic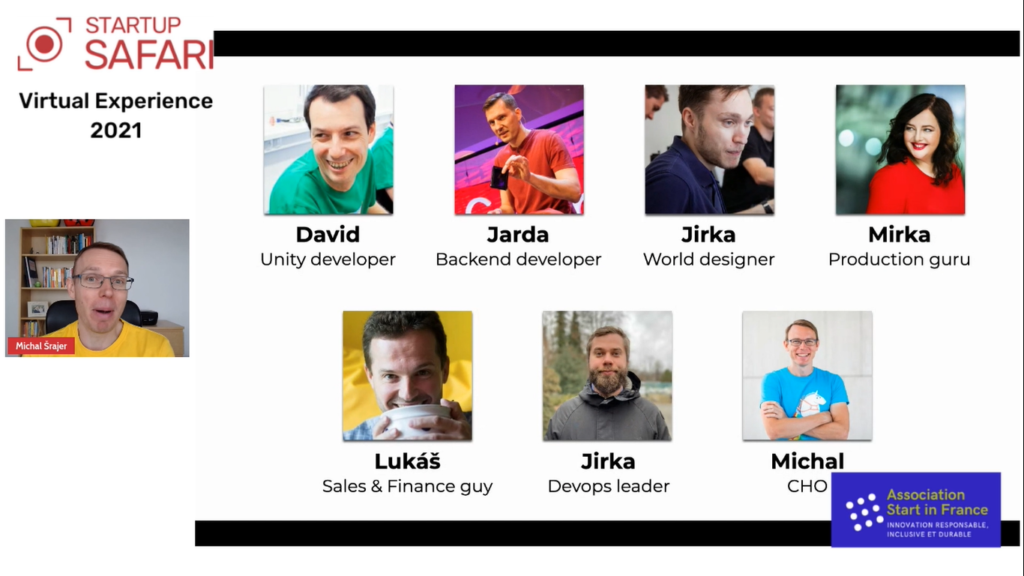 Before Confer-O-Matic, Michal and his computer friends, created Inmite. It was a startup that developed several applications for IPhone, Android and BlackBerry, at the time when smartphones were just launched. It was successful because it was the first in the Czech Republic to win the "Top Developer badge" award on Google Play. They worked for companies like Google, SKODA and many others. They were known to be a company that cared about the well-being of people at work. That was very important to them. Then they got bought out by Avast and everyone got another job, closing the first chapter of their journey.
After that, this team of friends and developers got together again to create a conference in 2010 to allow people to meet and share time together while learning a lot. Their Leitmotiv is the creation of a community to promote sharing. The conference is called mDevcamp, and it has become a big gathering of the developer community in the Czech Republic. It extends its boundaries internationally as it invites several speakers from different countries to share their experience.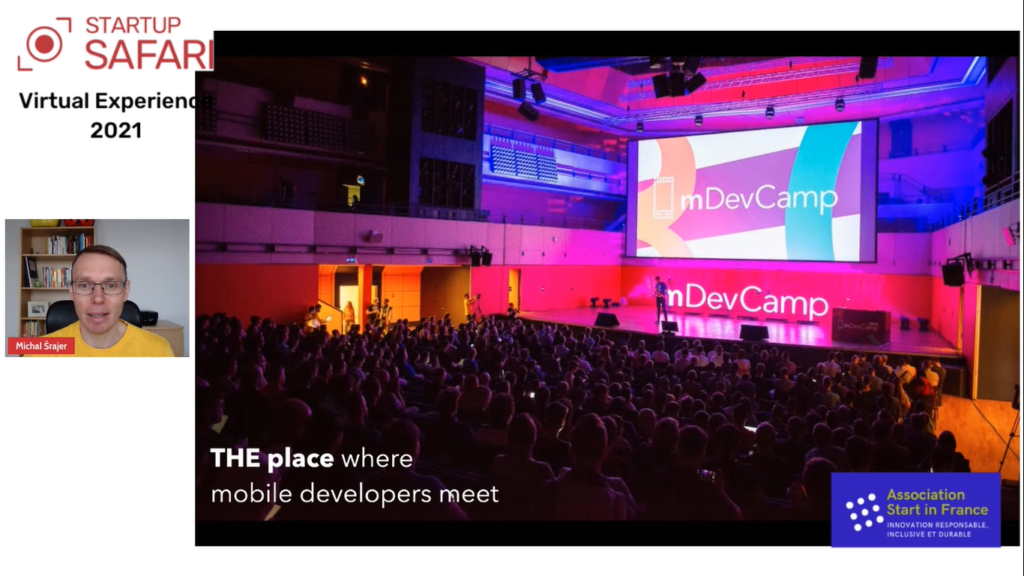 During the 2019 session, Michal and his friends created an app named mDevgame, to allow people to walk through the virtual world of the conference. The idea was to create more connectivity among the guests and add a fun twist to the event. And as a joke, they said they would do the whole conference in a virtual world next year. When the virus arrived in 2020, the idea wasn't so funny anymore. How could they create an international event online, in a virtual world in such a short time. It was complicated. But convinced by their different skills in application development, they gave it a shot. And they did; completing the development of the app on the very night of the event. That's how Confer-O-Matic was born. And the event was a success, even though they were nervous and didn't master all the twists and turns.
It meets the constraint of remote events. There are also ecological advantages. For years, they have been looking for a way to reduce the ecological impact of their event. Indeed, many of them have to travel to attend, so they have to take the plane. This application came at the right time. Confer-O-Matic was created to meet the needs of its creators. With the benefit of hindsight and the global pandemic, they decided that they should make their solution available to other companies.
How is Confer-O-Matic organized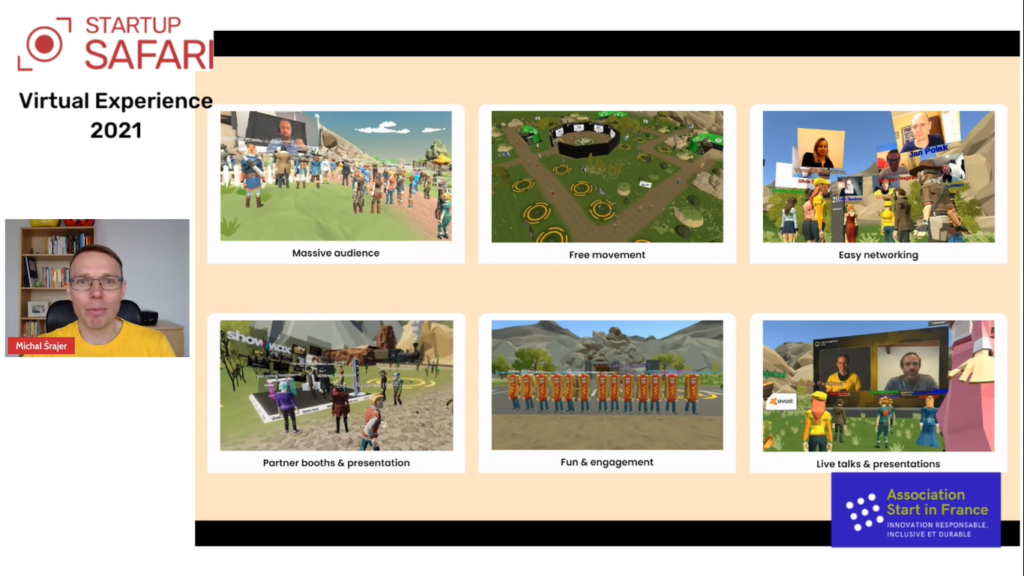 It is an interactive 3D platform for large online events. Much like a video game, like Fortnite. They wanted to allow people to walk around in a world and have freedom of movement. Its features can be summarized in 6 points:
Ability to accommodate a massive audience
As I said earlier, the virtual world is designed to accommodate crowds.
You can walk around like in a video game, jump, run, dance and even fly!!! It provides several activities. For example, in the Startup Safari world, there was a maze to visit, a small lake and an Eiffel tower to fly over. It was freedom of movement as in the open air.
To create a professional network
In the virtual world, you can meet people as if you were face to face thanks to chat zones. They are installed all over the world, and allow you to activate your screen and your microphone in order to see the person you are talking to. This makes it easier to talk to people.
As with the physical events, Confer-O-Matic also provides booths for partners or any other organization that wishes to gain visibility and be known by the public.
Diverse and fun characters
When you arrive in one of the worlds of Confer-O-Matic, you have to define an avatar with which you will interact with others. Michal and his collaborators want to make these events fun, so they allow a wide choice of avatars. You can be a fireman, a viking, a hot dog, a doctor and many other characters.
Live presentation platforms
The highlight of the show is the presentation platform. It is often the center of the world and hosts the presenters live. You can interact with them by asking them questions. There can also be several presentation platforms. It depends on the event.
Here is a video to show you what it looks like. Follow the link.
Who should use Confer-O-Matic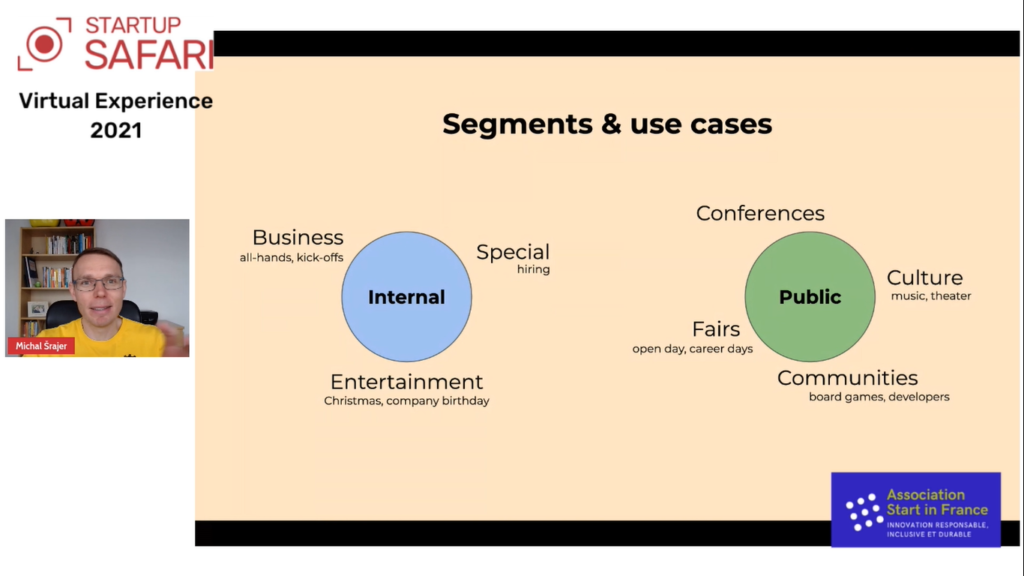 Internal events
Confer-O-Matic's world can be built at the request of companies that organize internal events for their organization. They built a world especially for SKODA who was giving a tour of one of their factories to students. This was particularly advantageous for SKODA because if this visit was organized in person, it would have been necessary to set up several safety standards, to plan a catering budget etc… With this virtual tour, they saved a lot of money.
Companies can also use this world for their recruitment, but also for their corporate parties. This was the case of Avast, who used their service. They built a world for their Christmas party. It was convenient because Avast is an international company and organizing such an event with 2000 people was impossible during the lockdown. This allowed employees to see each other and build a social bond. They also worked with Microsoft.
The Public
Events of all types can call upon Confer-O-Matic. This can be the case for conferences, cultural events, fairs etc… That's how they created a virtual world for the first Czech music festival, Rock For Public. Here is a video clip of the event. Doing this festival during the confinement was impossible, but with this solution, rock fans could meet virtually. It was crowded and they could even dance.
Confer-O-Matic in the future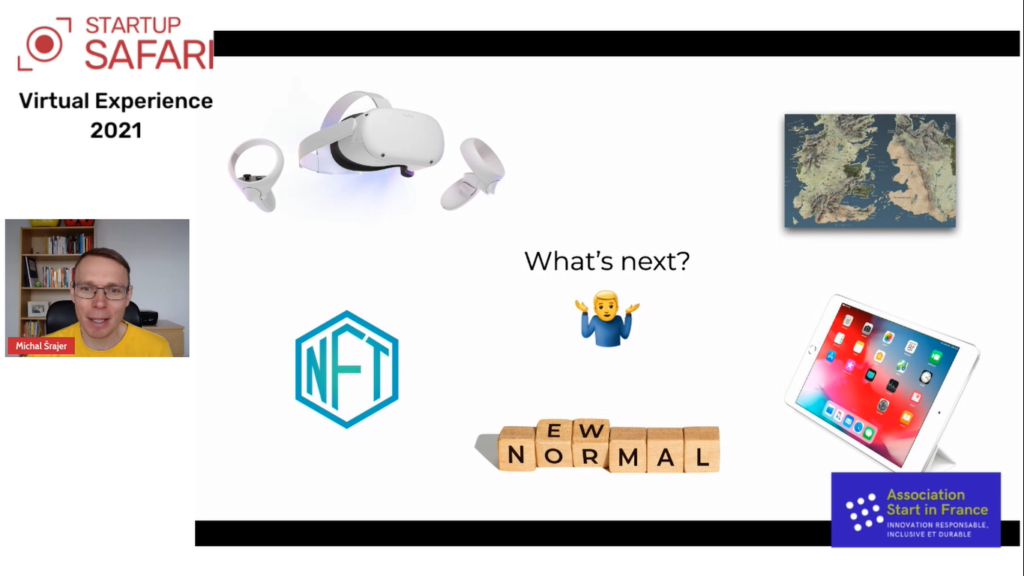 Confer-O-Matic has achieved this success through containment. Their solution makes sense in a context where it is impossible to meet. What will happen in the virtual world if people see each other again in person?Confer-O-Matic has achieved this success through containment. Their solution makes sense in a context where it is impossible to meet. What will happen in the virtual world if people see each other again in person?
Michal and his team believe that after COVID, things will not be the same. Events can be both face-to-face and remote. A mix of both to allow more people to take part.
They also figure that the events can be done in augmented reality as well. Participants will be able to connect to the virtual world via an augmented reality headset and interact with the world by holding controllers. For now, the world is only accessible with a laptop or desktop computer. They are also thinking about making it available on phones and tablets.
Conclusion
The story of Confer-O-Matic can inspire us to keep going in these difficult times. In their case, the solution was their creativity. Despite the wall of the unknown, they faced their fear. There were only two outcomes. Either it worked or it didn't. The only way to find out was to try. Do the same and try your ideas.
Here is the link to the video of his appearance in Startup Safari Virtual Experience.