We had the pleasure to welcome on the Impact stage of Startup SAFARI Virtual Experience, Maëlle Batti, manager of the collaborative workspace at La Ruche. She welcomed Miora ranaivoarinosy, co-founder of Caring Company Project and Stephan Dattner, co-founder of TUTTIS. They discussed several clichés about entrepreneurship in healthcare.
This article is a transcript of their performance, and you can follow the video replay with the link available at the bottom of the article.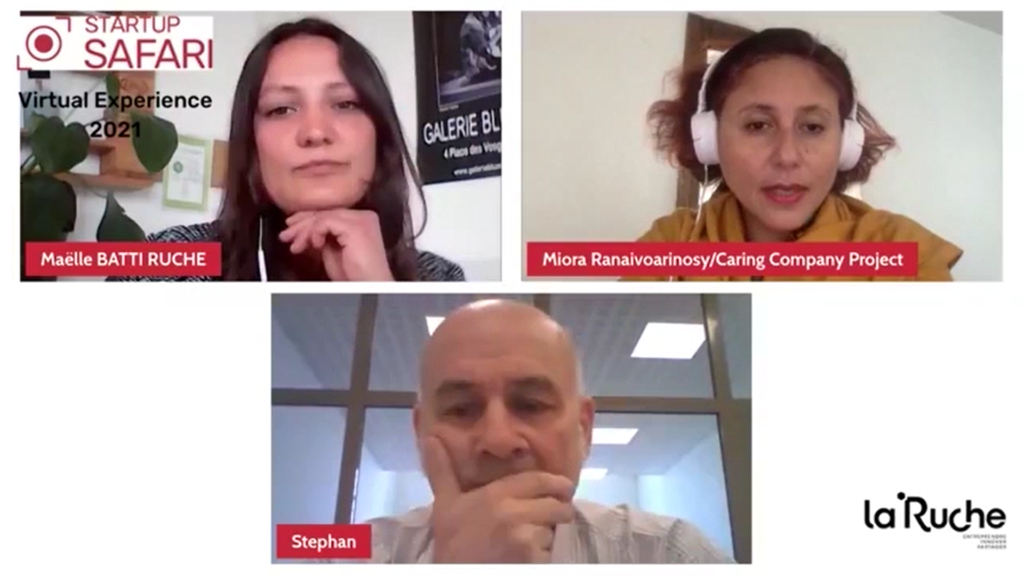 Presentation of the projects
Caring Company Project
The Caring Company Project is aimed at employee caregivers. These are employees in a company who take care of other employees who are losing their autonomy. It trains its employees to manage both their responsibilities and to follow and help their colleague with a disability.
TUTTIS
When we describe a situation that has been experienced, we are talking about practical analysis. The fact of describing it makes you understand much better what happened. You become more professional, more competent. Usually used in the health sector, this method takes the form of a meeting around a table to understand what happened in this or that situation. The problem is that nobody has the time to do this. The idea of TUTTIS is therefore to digitalize this method and to encourage this collective reflection through a digital platform.
Topic 1: What is health?
The WHO definition of health is clear. Health does not stop at the absence of disease or disability. It incorporates all aspects of amplitude and well-being. As such, health must be accessible to all, regardless of economic status. Health is also taking care of someone. This may depend on the family situation of the person. For Miora, she had to take care of her father.
Topic 2: The legitimacy of health entrepreneurs
Indeed, legitimacy is an issue for entrepreneurs. At the very beginning of TUTTIS, Stephan and his co-founder Anaïs were received by the DGOS (Direction Générale de l'Offre de Soins). Two surgeons were present. They only looked at Stephan and spoke only to him. And yet it was Anaïs who had the idea for the project. Anaïs, the nurse manager, a woman, had no legitimacy for them. The medical field is regulated and carries certain prejudices. Legitimacy is an important issue in this field. You have to surround yourself in advance with people who have legitimacy and who are recognized in order to be able to undertake.
For Miora, its legitimacy has been assured through its innovative business. You have to differentiate between solutions that already meet the market need. It met a need expressed differently. So the question of legitimacy was quickly settled.
Topic 3: Building legitimacy
Pour construire la légitimité de TUTTIS, il fallait qu'ils montrent qu'ils étaient capables de réunir des personnes pendant deux heures autour d'une table sur internet. Ils ont pris deux ans pour réaliser cela et dire enfin que oui, TUTTIS fait de l'analyse de pratique. Finalement ce qui compte pour Stephan, c'est la capacité à vendre. Il faut montrer que son concept n'est pas juste théorique. Montrer d'une manière pratique.
Topic 4: We need to innovate but there is little funding
From Stephan's point of view, we will always blame the state for cutting budgets. It is clear that it is failing on this point. Everyone can find something to blame him for. There are silos and entrepreneurs are not seen as part of that world, but just as entrepreneurs.
They are gateways and facilitators so they need more support.
Topic 5: Is it taboo to be an entrepreneur and try to make money?
It's yes and no. Miora's answer was no. Once companies see that the proposed solution really addresses their problems, they are happy to pay. However, Stephan notes that when the solution is aimed at certain members of the medical profession, they find it quite difficult to invest in solutions that are not free. Their arguments were based on their underpayment by the hospitals.
Here is the link of the video of their passage.