On the Learn stage of Startup SAFARI, we welcomed Amélia MATAR, founder of the company COLORI, which has existed for 5 years. She teaches children to code in the Montessori spirit from 3 years old.
Here is a summary of his passage. You can watch the video by clicking on the link at the bottom of the article.
The digital world
Amelia and her colleague Perrine Legal have both been digital experts for over 10 years, and also moms. They have seen the explosion of digital technology in companies. So they wondered how they could help their children to appropriate their knowledge and adapt the best possible posture.
Amélia thinks that digital technology has become a factor of inequality. The world we are creating is separated by a digital divide in terms of equipment and skills.
One of the most important things to evolve in the digital world is the place of women. We know that digital offers flourishing careers for women, and we also know that early learning allows people to project themselves onto this profession. It really starts in childhood. In fact, one study proves that girls at the age of six considered themselves much less interesting than boys. Early learning can therefore allow women to avoid this problem and allow them to have an equal place with men.
Teaching children to code
When it comes to learning to code, we are reluctant to put children in front of a screen. Except that with COLORI, the goal is to make children learn digital tools and programming WITHOUT SCREENS.
We often hear that code is too complicated. « Everyone should learn how to program a computer, because it teaches you how to think » Steve Jobs
Sometimes, we can also hear "learning to code, it's useless". Today, we know that computer programming is ubiquitous in everything and is used with a wide variety of disciplines: finance, the medical field, lawyers etc…
"Code is for developers!". Often, when we hear the word "developer" we think of an introverted, lonely and shy person. We have to completely break this idea of developers, because this judgment is not true.
The benefits
1- Develop critical thinking skills.
For children who consume a lot of technology in their early years, it is important to understand how what they consume works, to avoid the silly and passive use of the screen.
2- Increase your self-confidence.
When we are in front of something we don't understand and we are in an uncomfortable situation, it can affect our self-confidence. So on the contrary, when we are in a situation where we understand the workings behind the screen, we feel more confident. We are more comfortable and at ease with the tool we are using.
The learning method
Amelia and her colleague Perrine believe that the first activity with which a child develops is storytelling. Human beings learn very well through storytelling. That's why they made a story called HAYO the robot. This tale allows children to have fun while coding. It is about Pierrot and Justine, two characters in the tale, who will discover Hayo the robot during 5 chapters.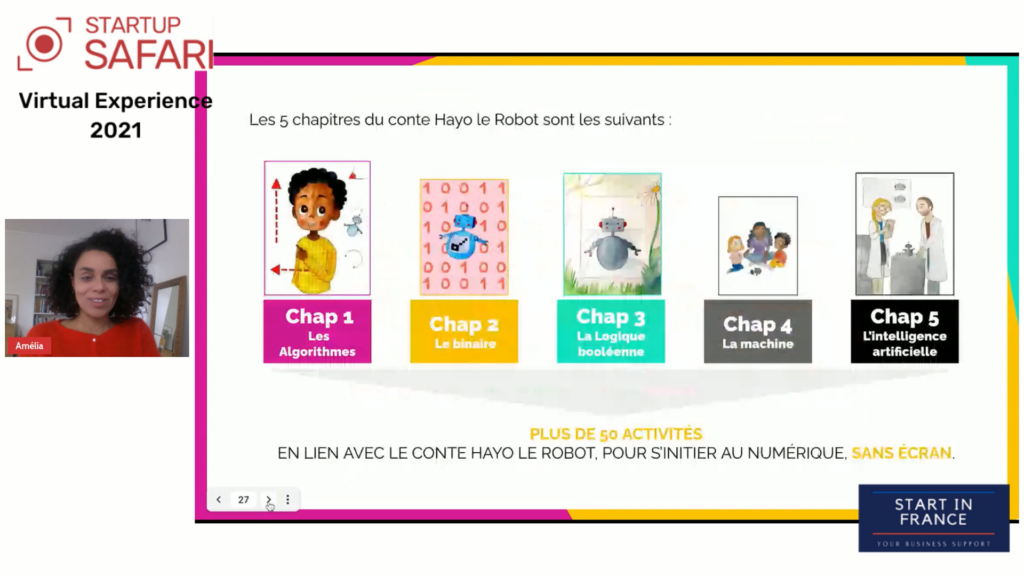 Through these five chapters, these two children will experience stories directly related to the digital world and will discover the following computer concepts: algorithm, binary system, Boolean logic, machines, robots, computers and artificial intelligence. In each of the chapters, there are manipulative activities that are proposed.
Chapter 1: Specific Instructions
For this first chapter, children will discover algorithms that are proposed in everyday life. This will allow them to make the link between computer science and logical thinking.
They will also learn how to program a robot in an easy way, with tiles that need to be put on the right places. Then they will put the robot on a tablecloth and follow its movements.
Another activity that children love is "code your drawing". The child imagines an algorithm that will determine the drawing that he will then execute on a sheet of paper.
An algorithm is a sequence of precise instructions to accomplish a task or solve a problem. It allows computers and computer programs to function. But they are also present in our lives, without us realizing it! For example, when we follow a recipe or change the wheel on a bicycle, we are following an algorithm.
Chapter 2: Of 1s and 0s
This second chapter explains how the binary system works. The child creates an image by placing stickers or mosaics according to a binary logic 1 or 0. He manipulates the notion of representation by pixels that he uses on screen. Il va pouvoir imaginer son propre dessin et écrire le code qui correspond à son dessin, voir le proposer à son ami.
Here are some examples of exercises: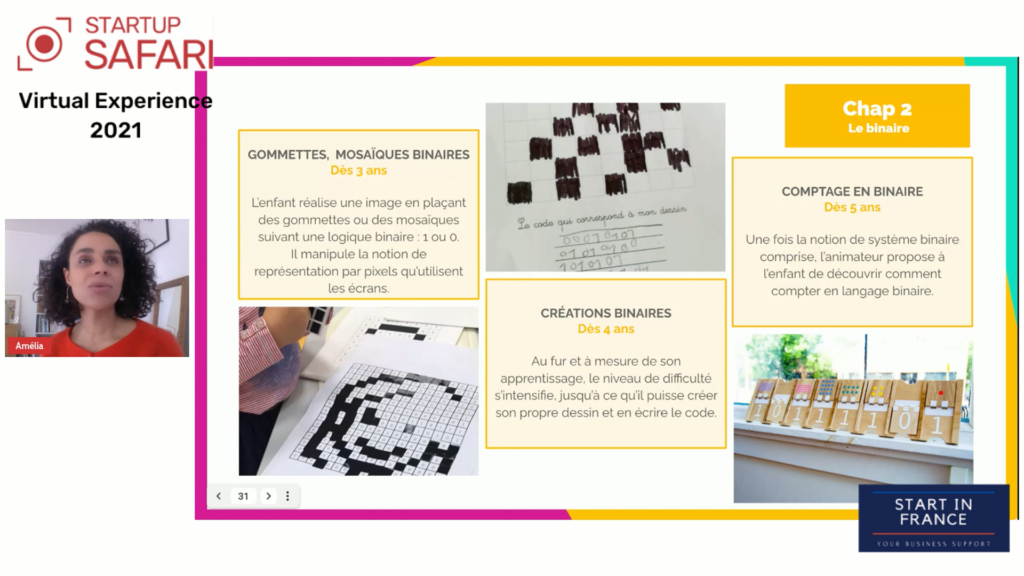 Chapter 3: Computer Logic
The third chapter proposes to teach the child Boolean logic. This term comes from Boolean algebra, which is a way of calculating based on logic. With this method, one can create reasoning patterns based on given conditions.
This will be done by coloring and creating drawings. They will determine the TRUE or FALSE states of a drawing based on Boolean operators.
Chapter 4: Components of a robot
This chapter is about machines. The children will discover the robot, open it, to see what is inside. This is very important for the child. They will be able to explore the different components through the nomenclature cards and the vocabulary that they will learn. They become aware of how the machine works and develop an appreciation for technology. They will be able to create a robot out of paper and collage, so they can control the components and place them on it.
The characteristics of COLORI
To summarize, COLORI is :
1 set of games
20 partner communities
300 adults trained in the COLORI method
2 000 children in workshops
50 screen-free activities for digital literacy
200 remote workshops from the confinement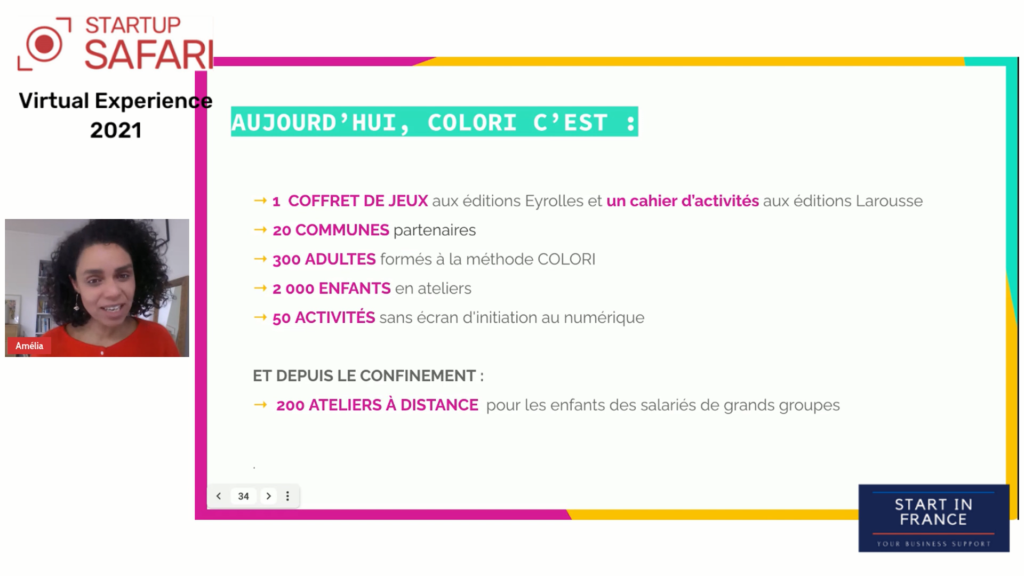 Digital technology is a very strong factor of inequality, that's why COLORI wants to break this and address children whatever their social background and their gender.
Conclusion
Hand in hand with the 20 partner communities, COLORI works to intervene in schools so that children do not have to pay for the COLORI workshops and that all children can benefit from them.
Now, COLORI works a lot in the priority districts of the cities, but also in the other districts. There are also 300 adults who are trained in the COLORI method. The adults are generally teachers, animators and all the people who can take charge of a group of children.
Today COLORI aims to expand its activity and reach as many children as possible.
Here is the link to the video.